The Watershed Monitoring Program's focus has always been on helping landowners and the community learn about their waters, identify potential issues ideally before they become a problem, and collaboratively learn how to be as effective as possible at the work that we do to protect the health of our watersheds and natural resources. None of the monitoring we do is punitive. It is all done voluntarily and designed to help landowners and the community make informed decisions on how best to manage resources and protect watershed health.
Want to help us? Sign up to volunteer below!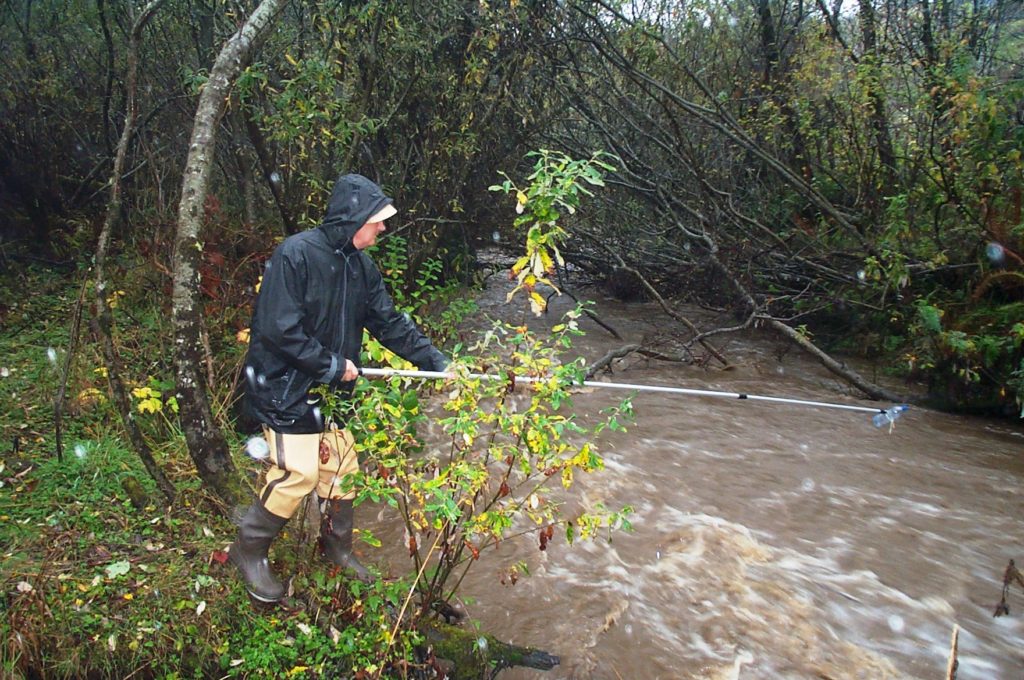 Storm Chasers is a citizen science water quality monitoring project in which volunteers collect water samples during storm events to help us better understand watershed conditions during these short, but critically important time periods.

Our watersheds are greatly impacted by the strong storms that crash against our coast throughout much of the year. These storms generate a lot of energy in high flows that can move a lot of sediment throughout these systems. Some sediment mobilization is a natural aspect of our watersheds, but sometimes large amounts of sediment in the water column can also be an indication of potential issues such as erosion or habitat degradation.
Storm Chasers volunteers are on the front line of helping us understand these issues. Volunteers go out during or just after 3 strong storms throughout the rainy season to collect water samples from designated locations throughout our watersheds. We then analyze those samples for turbidity and specific conductivity – two water quality parameters that help us better understand sediment mobilization. The results of these sampling events will help us better understand where the most sediment is moving through our watersheds, and identify areas where we may be able to work with landowners to address issues or enhance current conditions on their lands in order to reduce erosion and enhance the health of our watersheds.
If you'd like to join us and become a Storm Chaser, fill out the volunteer form at the bottom of this page!
The Watershed Monitoring Program recently finalized a long-term plan that charts a course for the program into the foreseeable future. This plan identifies a number of focus areas and priorities for the program based on the results of the past 20 years of work, and input from both the other programs in the Partnership and outside groups we often work with. Monitoring projects were then developed based on those focus areas and priorities. These projects are ones that the program will prioritize for the foreseeable future to better understand our watersheds and guide restoration efforts. More information on these projects will become available as they come online in the next few years.
While the projects identified in the plan are of the upmost priority for the program, the monitoring program also collaborates with the other programs in the Partnership to address any monitoring related needs to their programs. The monitoring program also strives to adapt and evolve as projects progress to make sure we are utilizing the most up to date science, technology, and information in our work.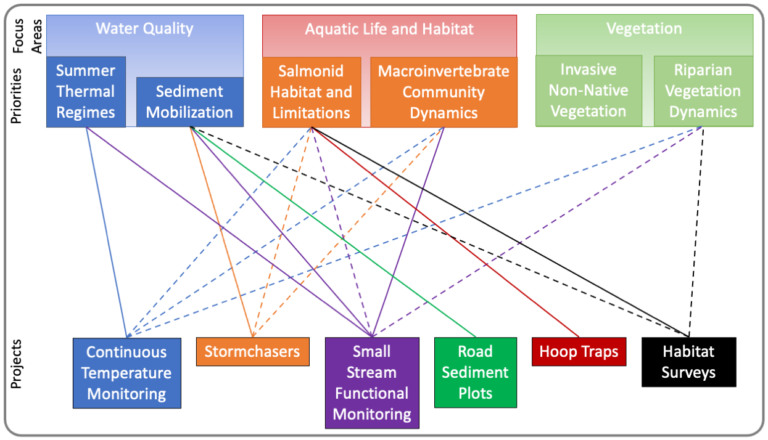 The relationship map above shows which projects inform which priorities and focus areas
Click on a project below to learn more
Summer water temperature monitoring is something we've done for many years, and is a key water quality parameter that can tell us a lot about watershed health and conditions for aquatic species.
This projects uses a number of standard monitoring techniques to better understand a number of factors related to common restoration projects we carry out, and will be very useful to our understanding of how effective our work is.
These fish traps are used to monitor juvenile salmon to identify areas where they're rearing and help us understand where and how we can help provide habitat to make sure they're strong and healthy for their journey out to sea
This unique project works with volunteers to collect water quality samples during storm events to help us better understand sediment mobilization and the effects large storms have on our watersheds.
These plots use a standard US Forest Service method to monitor how much sediment washes off of forest roads, and will be incredibly useful in helping us identify and remediate issues on ranching and forest roads.
These are standard surveys used by the Oregon Department of Fish and Wildlife to characterize salmonid habitat in streams. We use these surveys to identify areas of concern and monitor the health of streams over time.
Looking for a way to get involved in local watershed science? The Monitoring Program is always looking for ways to get volunteers involved, and is currently working on building a volunteer base for some exciting upcoming projects. Fill out this form with your info and we'll reach out as soon as possible to get you signed up to join our citizen science team!
The Curry Watersheds Education Program also coordinates Adopt-a-Stream (or wetland!) projects throughout Curry County such as tree planting, litter clean ups, invasive species removal, water quality monitoring and more. To get your class involved in the Salmon Ecology lessons, or a watershed stewardship project near your Curry county school, call or email your ideas or interests to Statia Ryder!